Primary Principals Support Network
The Primary School Principals Support network provides all school leaders with a continuum of high quality personal and professional development, support, advice and guidance in order to maximise the learning outcomes of every child.
Co. Wexford Education Centre has number of very active Primary School Principal Support Networks in our catchment area. These networks meet regularly to discuss various educational issues and to provide support to one another. Here is the current list of Primary School Principal Support Networks in the South East region.
Each Network has a Convenor, if you are interested in joining one of our Networks please contact the Convenor in your chosen area.
| | |
| --- | --- |
| Bunclody Principal Group | Carolyn Good |
| Carlow Principal Group | Annette Fitzpatrick |
| Enniscorthy Principal Group | Taragh Nolan |
| Gorey Principal Group | Niall Madden |
| New Ross Principal Group | Brian Flood |
| Wexford Principal Group | Bernadette Leahy & Nicola Roche |
Primary Principal Support Network Meetings are held at 3:30pm on the first Tuesday of every month. Please forward an attendance sheet to the Education Centre following your meeting. We will need a minimum of 10 attendees to fund room hire in a hotel. Please email This email address is being protected from spambots. You need JavaScript enabled to view it. if you would like to join a Support Network near you.
Please see the new schedule of dates for Primary Principal
Support Network Meetings for 2022/23
Date
04.10.2022
08.11.2022
06.12.2022
10.01.2023
07.02.2023
07.03.2023
18.04.2023
09.05.2023
06.06.2023
Bunclody Group - Convenor - Carolyn Good
Carrigduff NS
All Saints NS
Our Lady of Lourdes NS, Bunclody
Ardattin NS
Scoil Mhuire na hArd, Shilelagh
Clonegal NS
Kilmyshall NS
St. Columba's NS, Tullow
Our Lady of Lourdes
St Aidan's PS
Ballon NS
Kildavin NS
Crossbridge NS
Rathoe NS
Grange NS
Scoil Mhuire Lourdes (Girls' NS) Tullow
Kilcommon NS, Tinahely
Shellelagh NS
St. Patrick's NS, Rathvilly
Myshall NS
St Edan's NS
Carlow Group - Convenor - Annette Fitzpatrick
Arles NS
Ardattin NS
Ballon NS
Knockananna NS
Rathoe NS
St Abbain's NS
Ballinabranna NS
Wolfhill NS
The Swan NS
Ballylinan NS
Holy Family BNS, Askea
Rathmore NS
SN Fiontain
Shanganamore NS
St Brigid's NS Bagenalstown
St Brigid's NS, Grange
Tinahealy NS
St Michael's NS
St Columbus NS
Enniscorthy Group - Convenor - Taragh Nolan
Catherine McAuley Junior School
Clonroche NS
Donard NS
Scoil Mhuire Rosslare
Ballyroebuck NS
Ballindaggin NS
Davidstown NS
Kiltealy NS
St Mary's NS
Caim NS
St Aidan's PS
Camolin NS
Ballymurn NS
Scoil Naomh Maodhog, Ferns
Cushingstown NS
Courtnacuddy NS
Ballyhogue NS
Glenbrien NS
Ballyduff NS
St Senan's NS
Oulart NS
Marshalstown NS
Ballaghkeene
Olygate NS
St Fiacc's NS
Gorey Group -Convenor - Niall Madden
Ballygarret NS
Gorey Central NS
Tarahill NS
Castletown NS
Monamolin NS
Ballycanew NS
Bunscoil Loreto
Ballyduff NS
Tombrack NS
Coolgreany NS
Kilmuckridge NS
Bearna Clé NS
Kilnamanagh CNS
Annacurra NS
Carysfort NS
SS Michael & Peter JS
Coolfancy NS
Shillelagh NS
Ballyoughter NS
Gaelscoil Gorey
Gorey Educate Together
Oulart NS
New Ross Group - Convenor - Brian Flood
Scoil Mhuire Horeswood
Ballyhack NS
Bunscoil Ris
St Canice's NS
Clongeen NS
Cushinstown NS
Catherine Mc Auley NS
Danescastle NS
Drummond NS
Donard NS
Galbally NS
Gusserane NS
Listerlin NS
Poulfur NS
Ballycullane NS
Rathgarouge NS
Glenmore NS
Adamstown NS
Raheen NS
Sheillbaggan NS
Scoil Naomh Aine NS
Skeaghvastheen NS
St Patrick's NS,Strangemills
St James NS
The Rower NS
St Leonard's NS
Philtown NS
St Olivers NS
New Ross Educate Together
Wexford Group -Convenors - Bernadette Leahy & Nicola Roche
Mayglass NS
Barntown NS
Blackwater NS
Bree NS
Broadway NS
Castlebridge NS
Our Lady of Fatima Special School
Curracloe NS
Gaelscoil Charman
Tagoat NS
St Fintan's NS
Kennedy Park NS
Clongeen NS
Kilmore NS
Piercestown NS
Scoil Mhuire Coolcotts
St Margaret NS
Ballymitty NS
Mercy School, Wexford
Crossabeg NS
Our Lady's Island NS
Caroreigh NS
Glynn NS
CBS Wexford
Monageer NS
St Iberius NS
The following date is the scheduled date for our last 2022 Primary Principal Support Network meeting.
June 7th
If you are a Principal and you would like to join one of these support network groups please email Caroline at This email address is being protected from spambots. You need JavaScript enabled to view it.
Mentoring
Mentoring is described as 'a process designed to support and encourage professionals to manage their own learning, maximise their potential, develop their skills and improve their performance. (Mentoring Matters, Scotland). The Centre for School Leadership provides a formal mentoring support for all newly-appointed primary and post-primary principals for their first year in the role. The CSL vision of mentoring is that of a community of school leaders, who feel supported and valued as professionals, and who work in schools where mentoring is part of the culture of the organisation.
The Matching ProcessCSL uses a mentor database for matching mentors and mentees. The team looks at the experience and expertise of the mentor, their context and geographical location to match them with a newly appointed principal. The principals apply for access to a CSL mentor through the Misneach application process.
The Mentoring RelationshipAfter the initial meeting between mentor and mentee, CSL recommends that there is a two-hour meeting scheduled per month. At the initial meeting, the times and venues for future meetings are planned. A short fortnightly contact is optional. These meetings are usually face to face engagements apart from those involved in long distance relationships. Meetings are also subject to the requirements of public health guidelines. At the end of the academic year, CSL provides the names of those on the mentoring programme to NAPD/IPPN so that they may organise Group Mentoring for principals in their second year of principalship. Data Protection procedures are adhered to in this process.
In order to access a CSL Mentor, a newly-appointed principal can register for the Misneach Programme and CSL will contact the newly-appointed principal in relation to arranging a Mentor.

What is Misneach?
Misneach is a two year personal and professional development programme for Newly Appointed Principals (NAPs) developed by the Professional Development Service for Teachers (PDST).
The word 'Misneach' derives from the Irish word for courage, spirit and fortitude. The Misneach programme seeks to develop the knowledge, skills, attitudes and qualities of beginning school leaders, empowering them to respond effectively to the realities of managing and leading in the Irish school context.
Misneach helps NAPs develop the confidence to translate principle into practice and in developing this confidence, the notions of 'being challenged' and of 'becoming challenging' are promoted. Through working collaboratively and engaging with the language of leadership, the NAPs develop a map for their professional lives.
During the Misneach programme you will have numerous opportunities, both formally and informally, to share experiences, build collegiality and network with other participants who, like you are in their early stages of their career as a school leader.
This sharing of learning and experiences with your peers, facilitated and supported by the PDST team of experienced principals, is invaluable and will be of great personal and professional support to you as you transition into your new role.
The Misneach Vision
Misneach (meaning "courage") sets out to support you, the newly appointed principal, in coming to an understanding of the many and varied aspects of your new role as school leader.
The vision for Misneach is derived from the five core principles (see graphic below) of school leadership as identified by Irish school principals.
To access the PDST Misneach supports for Newly Appointed Principals, please click here
Please click to access The Misneach Brochure
To Apply for Misneach (Post-Primary)
To apply for the Misneach Programme 2021-2023 please complete the application form using the following link
https://pdst.ie/node/446
A member of the PDST leadership team will contact you with further information. If you have any further queries about the programme please contact the leadership administrator Linda Hogan at
This email address is being protected from spambots. You need JavaScript enabled to view it.
To Apply for Misneach (Primary)
A member of the PDST leadership team will contact you with further information. If you have any further queries about the programme please contact the leadership administrator Linda Hogan at
This email address is being protected from spambots. You need JavaScript enabled to view it.

ForBairt
Forbairt is a Leadership Development programme for a school leadership team, comprising of the principal, deputy principal and another teacher leader. Forbairt is constructed on an action learning model and is designed to support school leaders to explore leadership in their own context.
A teacher leader is any teacher who is engaged with leadership (formally or informally) in your school. They may have a formal leadership role in the school as an Assistant Principal but this is not essential. Schools that do not have a third member of staff are equally eligible to apply for the programme.
The programme is based on an Action Learning process which enables professionals to learn and develop through engaging and reflecting on their experience in the company of peers as they seek to address real-life problems in their own organisations. It generates learning from human interactions arising from solution-focused approaches to real-time, real-world work challenges. Over the course of the year participants come together for a number of two-day residentials, one-day courses and a number of Action Learning Community small-group meetings (ALCs). Supports are provided throughout the year as participants undertake, reflect on and gain feedback on the implementation of a Leadership Development Project (LDP) Examples of projects. undertaken are available in the Forbairt Projects section of this website.
Forbairt has a big impact on our leadership of learning. The following feedback was given by a group of Cork-based principals and deputies when asked what they had done in the course of the school year which impacted on learning in their schools.
To access the PDST Forbairt School Leadership Team supports, please click here
What is the CSL Coaching Service?
CSL Coaching is a confidential, one to one personal service which is now available for all D
epartment of Education
registered
Senior School Leaders
. Coaching is a particularly powerful tool and one that has proven to be a highly effective way of developing individual and
organisational
performance by unlocking potential and capability. Coaching is well established as a leadership development service in large
organisations
and in industry to date
. Since 2017, one-to-one and team coaching ha
ve
been available to all principals
and school leadership teams
in DE
registered
schoo
ls.
Why access Coaching?The Department of Education, IPPN, NAPD and the Centre for School Leadership recognise how challenging school leadership is in today's world and know that there are constant demands in this job.Senior School Leaders can avail of this confidential, one to one service to address challenges which they face, difficulties they might be experiencing or goals that they might wish to achieve.
How can Coaching Benefit you?
By engaging in coaching school leaders will gain the following benefits:
Enhance your capacity to work in a changing

environment

Increase your ability to

priortise

and manage

demands

Renew your enthusiasm for the

job

Enable you to manage change more

successfully

Assist you in creating a coaching culture in your

school

Provide time and space for you to

reflect

Leading through uncertainty
How does this Coaching service work?Senior School Leaders will be able to meet their chosen coach for a chemistry check. If thesenior school leaderis satisfied, then there will be 6 more meetings over approximately a one-year period. A final review meeting is held within 6 months of the last meeting. Meetings will normally last 90 minutes and will be held in an agreed location.Senior School Leaderswho have received a minimum of four individual coaching sessions through the current CSL Coaching Programme can avail of Team Coaching in their school. Fourtwo-hour Team Coaching sessions can be availed of per school with amaximum of six participants from the School Leadership Team.
Accessing the CSL Coaching Service
There will be 400 coaching places for DE registered school principals. There are 60 CSL coaches in 6 different regions around the country as well as 2 coaches who work through Irish. Principals can choose to attend a coach in any of the regions listed below. Principals should select their preferred region and browse the biographies of the coaches available in the region. Contact can then be made with the selected coach via the contact details on the coach's page. In most cases the contact details refer to a coaching company. The coaching company will arrange the chemistry meeting between the Principal and the Coach.
To access CSL Mentoring for Newly Appointed Principals, please click here cslireland.ie
The IPPN County Representatives for 2022 in our Wexford catchment area are:
Aileen Kennedy, Bunscoil Loreto, Gorey, Wexford.
Selina Carmody, Wexford Educate Together National School, Clonard, Wexford.
A County Network consists of Principals and Deputy Principals all of which are current members and are located within the 26 counties in the Republic of Ireland. Whilst some degree of official procedures and structures are necessary to maintain shape, consistency and compliance throughout IPPN, the culture of IPPN is one of informality, collegiality and professionalism.
Our IPPN Facilitators in our Wexford catchment area for 2022 are:
Brian Flood, Scoil Mhuire, Campile, Wexford
Aileen Kennedy, Bunscoil Loreto, Gorey, Wexford
Selina Carmody, Wexford ETNS, Clonard, Wexford.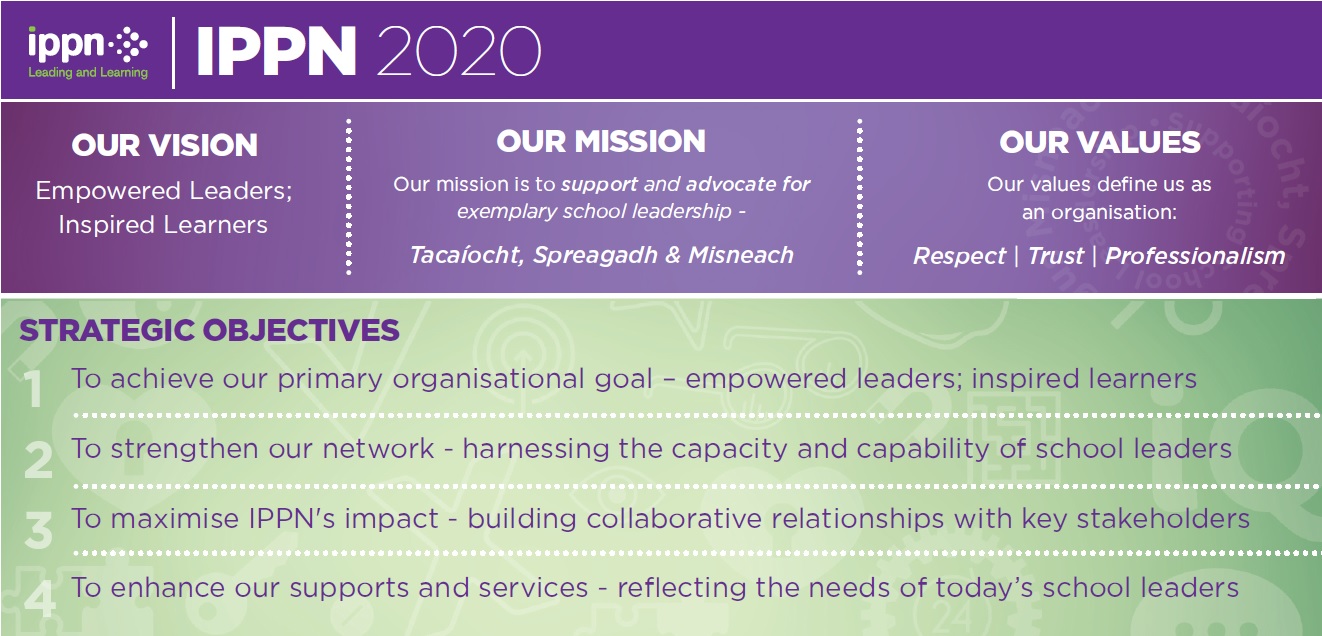 Please click for the October 2021 Magazine
Please click for the December 2021 Magazine
To access the INTO website, please click here
Webinar Recordings
The Board of Management Exploring Effective Practices webinar has been recorded from the 19th of January 21.